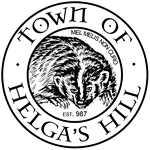 Helga's Hill Mayor
@hh_mayor
1 April 2001
Contact: Office of the Mayor
7 Helga's Hill Road
Helga's Hill, Wales
THE ANNUAL BADGER FESTIVAL IS ON THE HORIZON
This Year is Sure to Be the Best in Our History!
The Office of Mayor Samuel Smith is very pleased to announce that this year we have partnered with the Helga's Hill Residents' Association the make our yearly celebration of Helga Hufflepuff's birth better than ever. The festival on May the First will continue its long-standing traditions of history, celebration, and community engagement, while adding even more elements of entertainment and opportunities to support local business.
Some of our new attractions will include (but won't be limited to):
Food and drink kiosks in Town Square stocked by local Helga's Hill eateries.
Live musical entertainment all day.
Sale prices in all your favorite local shops.
Maypole dancing on the Mayor's lawn at noon.
Chances to win blue ribbons in everything from pie baking to the three-legged race. Get your entries in and/or sign up by April 30th!
An information booth staffed by the Helga's Hill Residents' Association.
An air show performed by some of our resident professional Quidditch players.
Free massages and spa treatments provided by The Calliope Heights Project.
A petting zoo. Yes, there will be a badger!
And much, much more…
With all of this as well as the usual merriment, we're sure that our 997th Badger Festival will be a magnificent start to the warmer months in our beloved town. And the best part? It is only a month away!
We can't wait to see you there!
* * *
If you'd like more information about this topic, or to schedule a meeting with Mayor Smith, please contact the Mayor's Office.